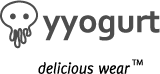 yyogurt is created by the same designer of y.u. targeting creative and trendy young consumers, while yyogurt unflavored is the high-end design label.
yyogurt started as an independent innovative jewelry brand in Shanghai China in late 2009, by yu yu and Kevin. now it is headquartered in Qingdao, China.

Fun, quirky, innovative and trendy, this is yyogurt. It is probably the only inedible yogurt on the planet

yyogurt is not just a piece of jewelry, but an attitude and lifestyle about being young and happy. No one could stay time, but we could do something to change our life: to maintain a heart of 18, wear vivid bold color, still trust in love though it hurts sometimes, dare to say no to some rules, be creative and refuse fakes! All these are very yyogurt.

yyogurt is born to be yummy and surprising, that is what we call it Delicious wear™.
please visit www.yyogurt.cn for more info.

yy*yyogurt.cn (replace* with @ )